Wil je een leuk stukje Hongaars horen en een grappig filmpje zien over een tramrace in Szeged? Kijk dan op onderstaande link. Ik kan je verzekeren: je kunt er geen touw aan vastknopen!


today.reuters.com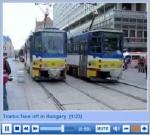 Klik op het plaatje om de video te starten



Trams face off in Hungary

May 9 - Hungarian tram drivers cut loose, in the country's first drag tram race.

Hungarian tram drivers decided to test their speed skills in the country's first tram drag race on Saturday (May 6).
The drivers began at a standstill, and had to accelerate to cover a one hundred metre distance in the shortest time.
The competition was organised by the Hungarian Speeding Association.
Seventeen drivers took part, with Borbala Kiss Klonka being awarded the winner, after her effort.
The top drivers covered the distance in less than ten seconds, and had reached 40 kilometres an hour by the time they reached the finish line.

SOUNDBITE, PRESIDENT OF HUNGARIAN SPEEDING ASSOCIATION, FERENC KURTYAN, SAYING, (Hungarian):
"We contacted the Transport Company of Szeged and they decided to support our idea, in order to promote public transport and the skills of their drivers. They provided us with all the necessary conditions to organise this race."